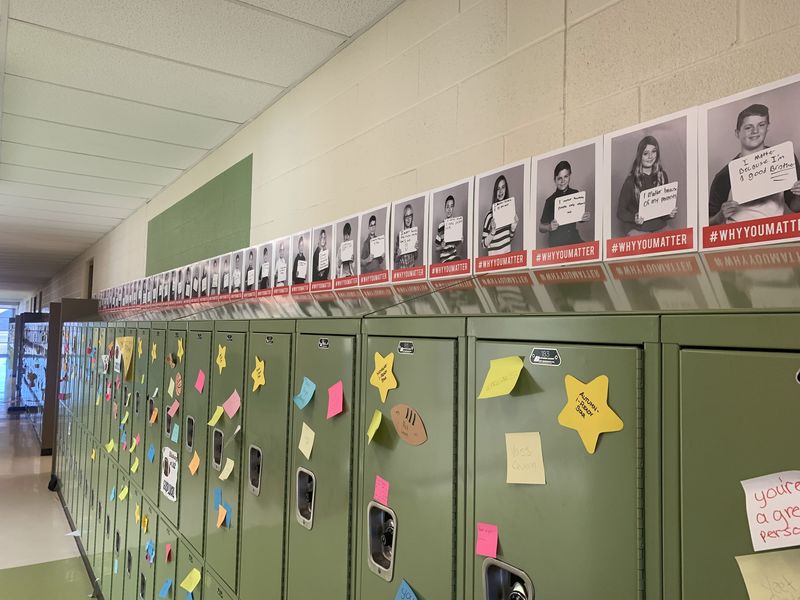 Sometimes Middle Schoolers need a little reminding.
In an effort to reinforce student self-worth, promote a positive school climate, and bring unity to a population that often feels alone, London Middle School is literally reminding students #whyyoumatter. Students returned from winter break to a school with hallways lined with pictures of the entire student and staff population holding inspirational messages of why they believed they mattered. The pictures were taken in November and with the help of Peters Photography made into mini posters.
The brainchild of LMS Health and PE teacher, Adam Haman, LMS has lined hallways with pictures of the entire student and staff population with inspirational messages of hope. Mr. Haman was inspired by a Michigan school that completed a similar project. "I truly feel it is much tougher to be a kid these days, especially a teenager. With all the negativity in the world, we could all use some positivity in our lives with a daily reminder that we all have a purpose and reason for being here," he said.
The posters will remain up for the rest of the year and be replaced each year with pictures of current students. Parents and the community are invited to a Gallery Walk during spring parent-teacher conferences to view the positive messages.
WHO: Open to the public
WHAT: #WhyYouMatter Gallery Walk
(cookies and refreshments will be provided)
WHERE: London Middle School
(270 E. Keny Blvd., London, OH 43140)
WHEN: February, 6, 2020 from 1:00-6:30pm
(During parent/teacher conferences)
WHY: To share positive messages of the students at LMS