London City School District Restart Plan and Resources
Parents Looking to Enroll Students in London Unlimited
or Raider Remote Learning Asked to "Opt-In" by August 1st, 2020
LCS Opting for a New Online Curriculum Beginning for the 2020-2021 School Year
London Thinking Creatively to Serve Gifted, All Elementary Students
Before and After School Program Continues to Grow at London
LCS Child Care Partner - Champions - to Provide Preschool Before/After School Childcare
London City Schools Preschool Classrooms Relocating to Fairhaven School
London Planning to Better Coach Students on Career and College Options
London Playing Around with New Esports Team
During the 2019-2020 school year, we had 49 individuals between the fall and winter seasons earn all-league honors, 23 earn all-district honors and 10 individuals earn all-state honors. We had 4 wrestlers qualify for the state tournament before it was canceled, and we had a young lady, Grace Jones, win the state championship in the 1st ever Girls Wrestling State Championships at 116 pounds hosted by the Ohio High School Wrestling Coaches Association. The football team continued its streak of playoff appearances by qualifying as the 8th seed in Division III Region 11.
District Accomplishments
During the 2017-2018 school year, London added interscholastic swimming as a club sport.
Launched, London Unlimited, which is the district's flexible, alternative educational program. The program grew to include 80 students or 12% of the high school student population during the last school year (2017-2018).
LCS successfully provided 1 technology device per student during the 2017-2018 school year (2017-2018).
During the 2016-2017 school year, London High School began offering College Credit Plus courses onsite for the first time. These six (6) CCP courses complement the six (6) Advanced Placement courses, which are already offered at the school.
During the 2016-2017 school year, the district officially added high school bowling as a school-sponsored sport and added the following clubs at LMS: Robotics, Power of the Pen, Math Counts, and Mock Trial.
London Middle School added options for current middle school students to access an additional three (3) high school courses in 2016-2017. LMS students now have access to five (5) LHS courses.
During the summer of 2016, the London City School District installed field turf at Bowlus Field thereby greatly increasing the access of the field for student programs.
Goal #3: Varied Academic, Athletics and Extracurricular Opportunities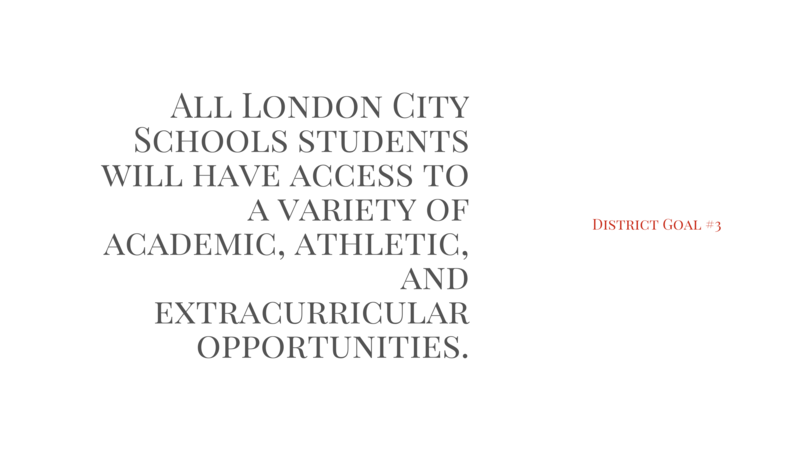 Identified projects are completed on time and within the identified budget.
The London City School District will successfully implement its Restart Plan for the 2020-2021 school year as measured by weekly operational dashboards taking into account student enrollment, staff, and student attendance including absences related to COVID19, and the county health advisory status.

By the conclusion of the 2020-2021 school year, LCS will launch a district system of career exploration and advising, which will include a systematic process for students to identify and explore career aptitudes and interests.

The London City School District will successfully oversee the Fairhaven Early Learning Academy, which is a collaboration of the Madison Champaign ESC, and the Madison County Board of Developmental Disabilities.

During the 2020-21 school year, the district will explore and grow a partnership with Columbus State Community College with the ultimate goal of providing higher educational opportunities to students and the London Community.