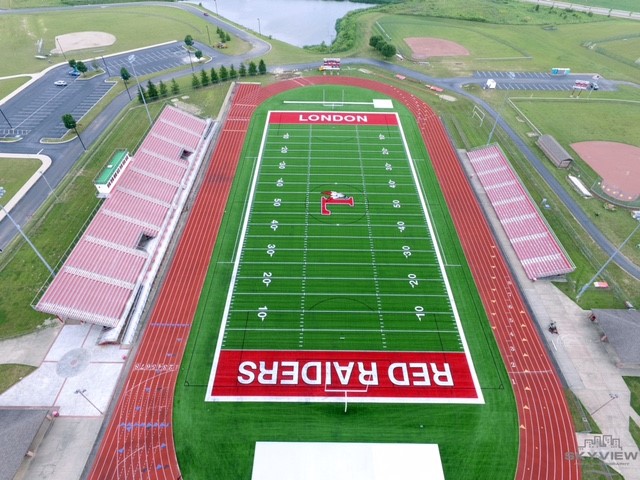 During the Fall of 2015, the London City School District launched a Capital Campaign to raise approximately $500,000 to support the installation of field turf at Bowlus Field. The London City School District Board of Education acting at its regular May Board of Education meeting approved a contract to install synthetic field turf at Bowlus Field in time for the start of the 2016 fall sports season. The projected was completed over the summer of 2016. The London Community celebrated the opening of the field with a tailgate and recognition during pre game festivities at its first home football game of the season on August 26th, 2016.
The project was an effort to greatly increase the use of district facilities and to further establish its athletic facilities as some of the best in the area. Conceived first and foremost to improve experiences for students participating in co-curricular and athletic programs, it was estimated that the transition to an artificial playing surface will increase the use of the Bowlus Field from 15-18 hours to approximately 38-40 hours per week.
The project not only improved the high school playing surface but benefited London Middle School as well. The construction contract included the relocation of dirt from Bowlus Field to the unused playing fields south of London Middle School. Construction crews not only relocated dirt, but also leveled, seeded, and fertilized the fields. It is hoped LMS baseball, softball, and soccer teams will be able to use the fields for practice and competition beginning in the spring of 2017.
Bowlus Field Construction July 2016