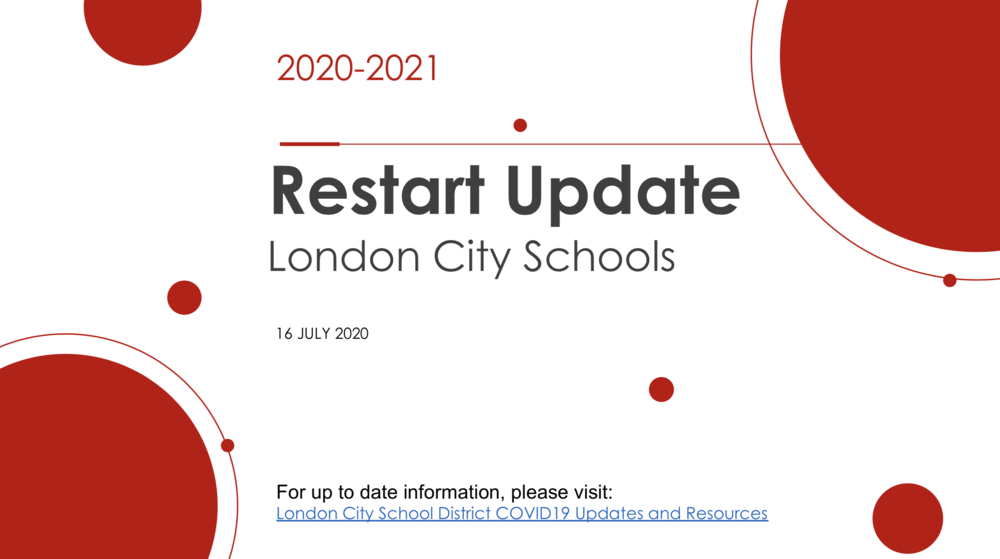 Superintendent's Robocall: Thursday, August 6th, 2020
Lou Kramer
Thursday, August 06, 2020
Good Evening London Families
This is District Superintendent Lou Kramer with a few important announcements.
Whether students are planning to take courses in-person, remotely, or a little bit of both, the first day of classes, which is scheduled for Monday, August 24th, is right around the corner. Tomorrow morning at 10 am each school will be sharing more specifics about our planned opening of the school year.
Included in the information sent from each school tomorrow, the district will be sending home several important requests for information:
First, we have reopened our registration for our London Unlimited and Raider Remote programs. If after reviewing our plans, you change your mind and would like your child to attend classes partially or wholly online, you will still be able to do so. Parents who already registered for these programs do NOT need to complete the form a second time and only families interested in these programs need to complete this survey.

Secondly, we realize many families may choose to drive their child to school instead of having their child take the bus. We are asking that all families who would like district transportation let us know by completing a separate Transportation Survey. Parents who do not require district transportation do not need to complete the form.

Finally, students in grades 6-12 will attend classes on campus two days per week. We realize that students in the same household my have different last names and this may cause students to be scheduled for opposite days. If this is the case, we want to help. You guessed it - there is a survey for that too!
Should you have any questions, please visit our COVID19 webpage or contact your school adminsitrators.
Thanks for listening. Stay well Raiders!