EDIT MAIN
What is London Unlimited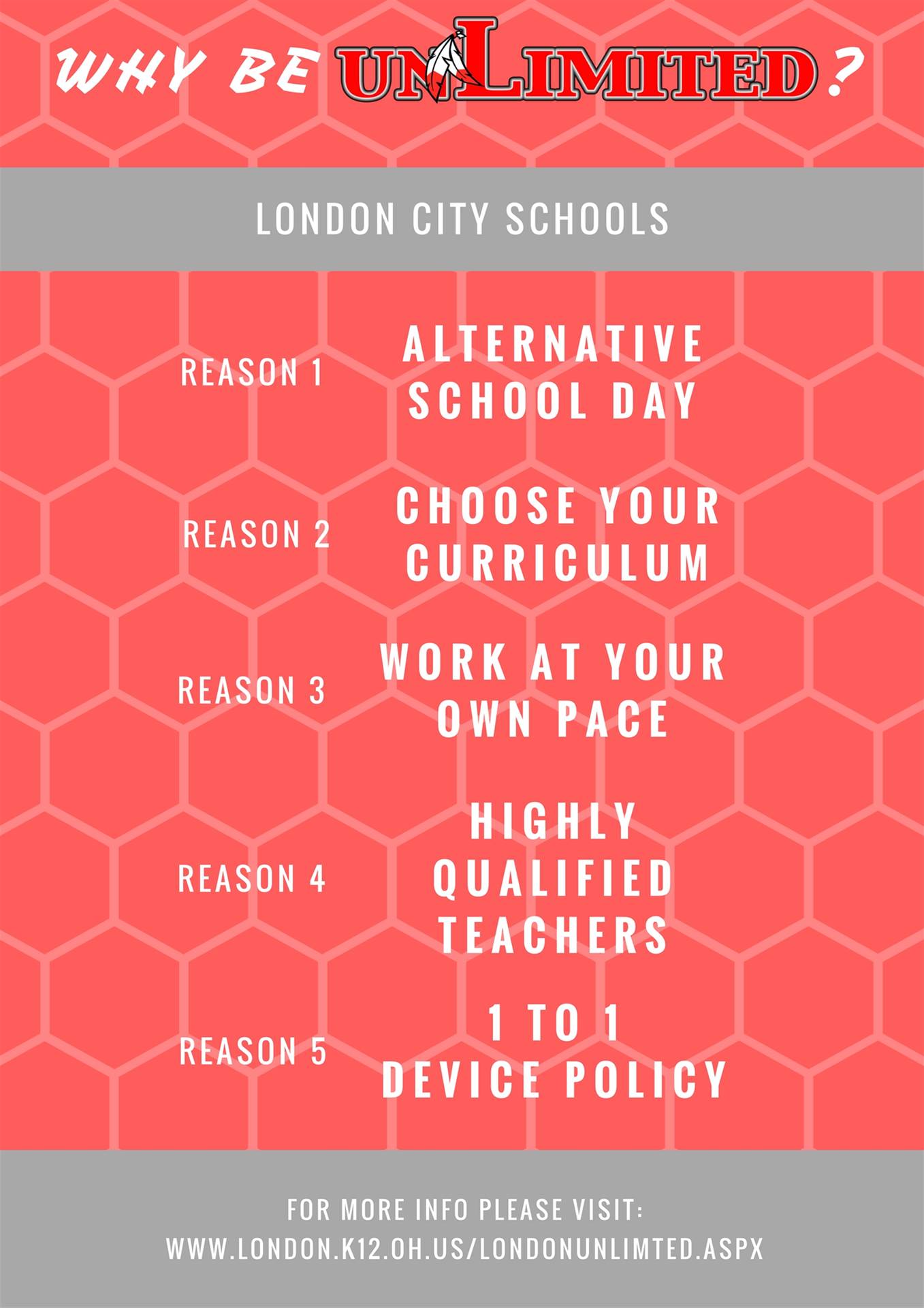 London Unlimited is an educational program designed by the London City School District with the express purpose to provide hybrid and personalized educational options for students. The program incorporates the district's blended and virtual learning programs, College Credit Plus, and the district's credit flexibility policy to individualize each student's educational program. London Unlimited is designed for all students including high achieving and those that are currently experiencing difficulty in their coursework. The district supports the implementation of this program by extending the school day. Students may access the program at times and in a manner consistent with their interests and goals.
London Unlimited is both a concept and a brick and mortar educational program. As a concept, the program unites a variety of district programs to personalize learning. The program is designed to link educational opportunities to a time, place, and method, which best supports student interests and needs. All students complete a common registration form in order to access various educational opportunities. A student support team exists to support collaborative decisions based on data and student interest.
As a brick and mortar educational program, London Unlimited functions as an extension of the London High School school day, which adds 2 periods to the regular 8 period high school day. Students enrolled in a London Unlimited program are monitored regularly and may be removed from the program for failing to meet program requirements.
To participate in College Credit Plus (CCP), Credit Flex, Credit Recovery, or Internships, students must submit during the scheduling process a London Unlimited application. Applications may be downloaded herehere
COLLEGE CREDIT PLUS (CCP)
College Credit Plus is a program that gives high school students an opportunity to be enrolled in both high school and college course work at the same time. Students must be deemed academically ready for college level coursework and be willing to follow procedures outlined by the university while still in high school. While students may attend any participating two or four year college/university, London City Schools will be partnering with Columbus State Community College, enabling students to enroll in classes on Columbus State's campus or at London High School.
CREDIT RECOVERY
A student who fails a course in a tested area but passes the state's End-of-Course exam for that specific class may use the Credit Flexibility policy to petition to pass the course that was failed through the demonstration of competency on the test. A score of "4" or "5" must be obtained for this petition to be successful. Students may also recover the course via Peak Fuel Ed.
INTERNSHIPS
London High School recognizes the value of authentic learning experiences which prepare students for life after high school. As such, LHS recognizes that internships can be a valuable experience in this preparation. To that end, LHS is partnering with local businesses to allow students to gain this valuable experience of on-the-job training.
CREDIT FLEXIBILITY
Credit Flexibility awards credit based on competence. It enables students to earn units of high school credit based on a demonstration of subject area competency, instead of or in combination with completing hours of classroom instruction. Options include: Student Course Proposal, Independent Study/Research, Distance Learning (from an accredited institution and Mastery Assessment.