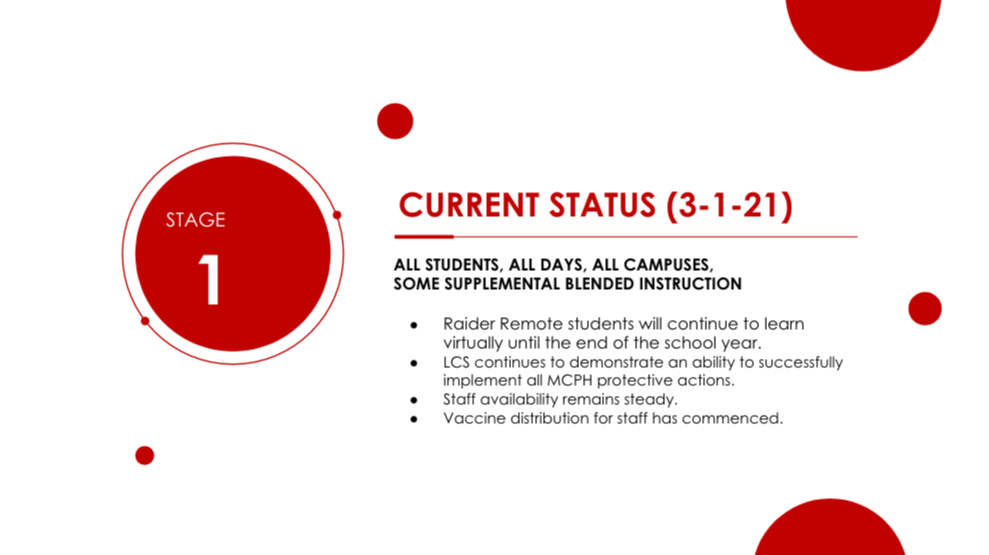 London City School District Restart Report
Updated 4-12-2021
LCS has recorded 113 total positive cases of COVID19 this school year.
35 staff cases and 78 student cases.
35 cases have occurred at LES.
17 cases have been recorded at LMS.
57 cases have been recorded at LHS.
8 cases have been recorded for district employees.
Due to the COVID19 pandemic, all Ohio schools were ordered to provide instruction online for beginning March 16th, 2020 until the end of the 2019-2020 school year. The purpose of this plan is to provide guidance to stakeholders of the London City School District for the safe and orderly restart for the continuum of instruction for the 2020-2021 school year.
Coronavirus will be prevalent in society at the onset of the 2020-2021 school year.
State and local mandates will be in place of which schools will be required to follow.

The manner in which the district provides for the educational, socio-emotional, and physical needs of students may change quickly based on direction from the Governor, Ohio Department of Health, and/or Madison County Public Health.

The London City School District must seek approval from Madison County Public Health for its reopening plans for the 2020-2021 school year (A resolution to Delegate Special Duties to the Health Commissioner and to Declare an Emergency). The school district is required to integrate the Protective Actions listed later in this document as part of this plan.
Plan to meet the educational, socio-emotional, and physical needs of all students by designing and implementing high quality and flexible learning options;

Protect the health and safety of all students, staff, and individuals visiting our schools by following best practices and adhering to state and local guidelines;

Implement efficient, adaptable, and cost-effective methods for operating the school district;

Support staff and parents in adapting to new or sudden changes to the educational process;

Plan for effective communication and collaboration efforts of stakeholders during planning and implementation.