Each district school was awarded the Purple Star Designation by the Ohio Department of Education indicating a commitment to serving military impacted families.
During the spring of 2018, LCS launched a pilot email blast to assist in communicating district news and sharing positive information to constituents.
In January of 2018, LCS relaunched the Raiderscope, the district's community newsletter. The district intends to publish the Raiderscope three (3) times per year.
In partnership with the Ohio School Board Association, the London City School District administered a community survey during the spring of the 2016-2017 school year. The results of this survey have been used to influence improvement efforts, especially in regards to communication.
In April of 2016, LCS launched a new website, which integrated expanded social media accounts.
In March of 2016, the district introduced new lunch menus in each district school, which provided students with higher quality foods and more choice.
During the Fall of 2015, the London City School District implemented a comprehensive survey process of students, staff, and parents in an attempt to improve the experience of each group with the district.
Goal #4: Positive "User Experience"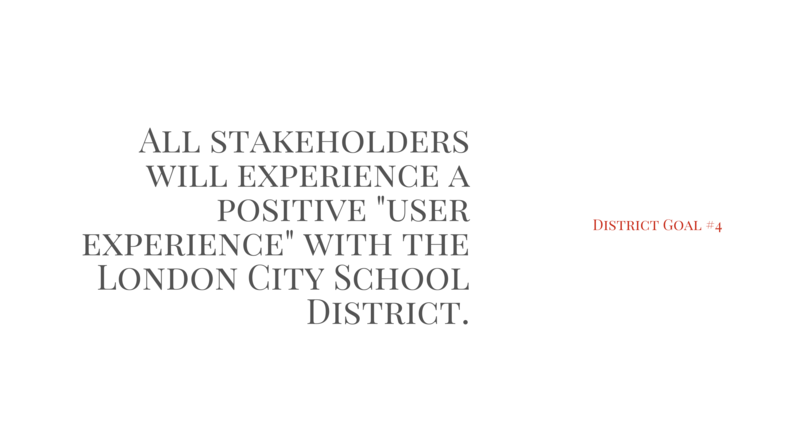 Identified projects are completed on time and within the identified budget.
Annually, the district will review and revise district safety plans in conjunction with the London City Police Department and the Ohio Department of Education/Office of Homeland Security.

The district will continue expanded communication efforts, which will include monthly email blasts, three issues of The Raiderscope community newsletter, and a coordinated social media presence.

During the current school year, the London City School District will conduct a series of stakeholder surveys to determine needs and progress for improving the user experience of our schools.

By January 1st, 2021, LCS will complete upgrades of building entranceways and streamline access controls across the district as part of a Bureau of Worker's School Safety and Security Grant Program.

By January 1st, 2021, LCS will greatly expand public wireless access on district property including the district athletic facilities as part of a state Broadband grant project.