During the 2019-2020 School Year:
Many district formative and state assessments were postponed or canceled due to the coronavirus pandemic. This makes a comparison of student achievement data from 2019-2020 to prior years difficult.
The district was not assessed on performance index during the 2019-2020 school year due to COVID19.
Ohio released modified report cards in September of 2020 and provided data for the components of Graduation Rate, K-3 Literacy, and Prepared for Success. LCS made positive gains in all areas.
London greatly expanded educational options, such as London Unlimited (Blended instruction) and Raider Remote (All remote learning), for district families as a result of COVID19. Approximately 25% of district students began the 2020-2021 school year in one of these programs.
The district adopted a new online curriculum (Schools PLP) during the summer of 2020.
LCS published Learning Maps for core content areas of Reading Language Arts, mathematics, science, and social studies (Completed 2019-2020 school year)
Implemented a formative assessment program (iReady) for all students in grades K-8 in mathematics and English Language Arts in order to assist teachers in adapting their instruction to student needs (Completed 2019-2020).
During the 2017-2018 school year, over 95% of LCS teachers received Google Training. As of August 1st, 2018, over 50 educators passed their Google Level I certification.
District Curriculum Mapping/Adoption of new Instructional Resources: Mathematics, 2016 (McGraw Hill), Online Resources, 2016 (FuelEd), English Language Arts, 2017 (McGraw Hill).
Goal #1: High Achievement and Constant Growth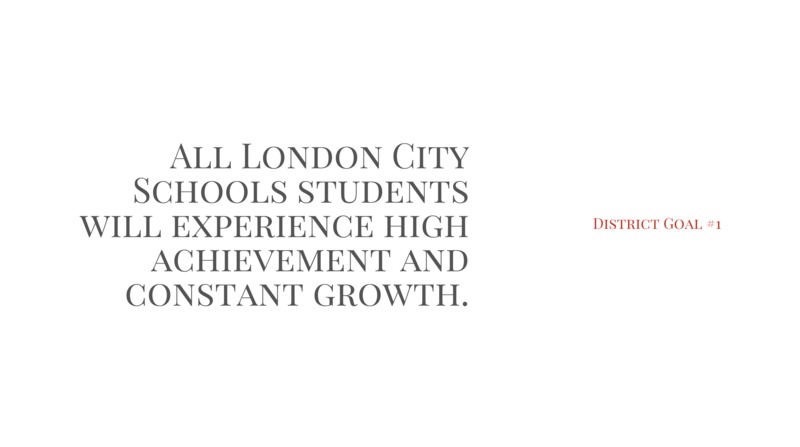 Annually, at least 80% of district students will demonstrate at least one year of growth for both reading and math as measured by district formative assessments

The London City School District will improve its performance index as shown on the Ohio Department of Education Report card by at least 1 point per year during the 2019-2020 school year.
CURRENT PROJECTSMANCE METRICS
Throughout the 2020-2021 school year, the London City School District will engage in an ongoing strategic planning process to ensure the district is making effective progress toward district goals.

By the end of the current school year, the district will revise and publish 100% of the district's course/grade learning maps. Each learning map will include a reference to the Future Ready Framework and career exploration options. High School Maps will include links to specific pathways for earning at least two of Ohio's graduation seals.

By August 1st, 2021, all schools within the London City School District will be designated as STEM schools by the Ohio Department of Education.

Throughout the current school year, the district will monitor, assess, and recommend resources to ensure all students have access to quality instructional resources.