EDIT MAIN
District Quality Profile
Portrait of a London City Schools Graduate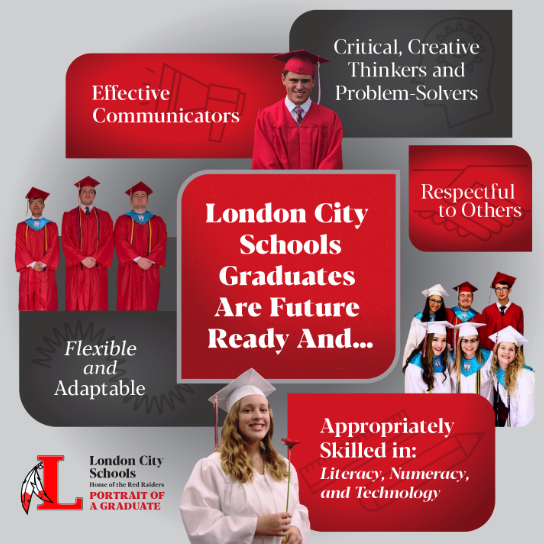 CRITICAL AND CREATIVE THINKERS AND PROBLEM-SOLVERS. LHS graduates are able to develop, implement, and model effective decision making and critical thinking skills.
EFFECTIVE COMMUNICATORS. Each Red Raider graduate is able to apply positive verbal and non-verbal communication and social skills in order to interact effectively with others and in groups.
APPROPRIATELY SKILLED IN LITERACY, NUMERACY, AND TECHNOLOGY. Grads possess the knowledge and the ability to meaningfully apply literacy, numeracy, and technology skills for success in college and/or careers.
RESPECTFUL TO OTHERS. LHS students demonstrate a social awareness and respect for human dignity, including the similarities and differences of all people, groups, and cultures.
FLEXIBLE AND ADAPTABLE. District graduates explore and approach new situations with an open mind and curiosity. They persevere through challenges and setbacks in school and life.
Key Improvement Strategies for 2019-2020
Throughout the 2019-2020 school year, the district will use the Future Ready Framework (Alliance for Excellent Education) to revise and publish a new organizational strategic plan.
By the end of the current school year, the district will revise and publish at least 50% of the district's course/grade learning maps. Each learning map will include reference to the Future Ready Framework and career exploration options. High School Maps will include links to specific pathways for earning at least two of Ohio's graduation seals and college ready skills.
By August 1st, 2020, all schools within the London City School District will be designated as STEM schools by the Ohio Department of Education.
During the 2019-2020 school year, the district will explore and grow a partnership with Columbus State Community College with the ultimate goal of providing higher educational opportunities to students and the community.
By the conclusions of the 2019-2020 school year, LCS will launch a district system of career exploration, which will include a student internship program.
The district will successfully pass its renewal of its 1% income tax in the Fall of 2019.
At the conclusion of the current school year, the London City School District will publish site plans for each campus, which integrates facility priorities with district goals and the district's five (5) year Capital Plan.
HOW WE VIEW IMPROVEMENT
The London City School District is working hard to be a premier school district both in Madison County and beyond. As such, the district has established a strategic plan to move the skills students learn as part of our schools to mindsets for future success in college and careers. Every individual within the district is responsible in some part for the success of the district as a whole. In order to be discipline driven, the district and each school have identified metrics and strategies for measuring success in reaching each goal.
You can learn more about how the district is working to achieve these goals by choosing the "district strategic plan" tab on the district homepage menu.
District Statement of the Release of the 2019 Report Card