EDIT MAIN
District Quality Profile
Portrait of a London City Schools Graduate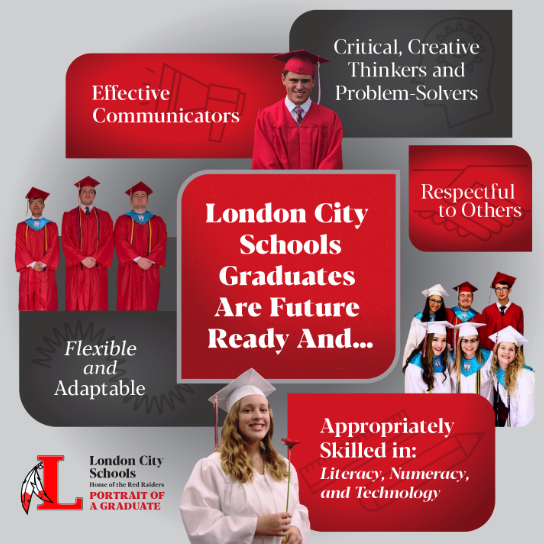 CRITICAL AND CREATIVE THINKERS AND PROBLEM-SOLVERS.
LHS graduates are able to develop, implement, and model effective decision making and critical thinking skills.
EFFECTIVE COMMUNICATORS.
Each Red Raider graduate is able to apply positive verbal and non-verbal communication and social skills in order to interact effectively with others and in groups.
APPROPRIATELY SKILLED IN LITERACY, NUMERACY, AND TECHNOLOGY.
Grads possess the knowledge and the ability to meaningfully apply literacy, numeracy, and technology skills for success in college and/or careers.
RESPECTFUL TO OTHERS.
LHS students demonstrate social awareness and respect for human dignity, including the similarities and differences of all people, groups, and cultures.
FLEXIBLE AND ADAPTABLE.
District graduates explore and approach new situations with an open mind and curiosity. They persevere through challenges and setbacks in school and life.
---
HOW WE VIEW IMPROVEMENT
The London City School District is working hard to be a premier school district both in Madison County and beyond. As such, the district has established a strategic plan to move the skills students learn as part of our schools to mindsets for future success in college and careers. Every individual within the district is responsible in some part for the success of the district as a whole. In order to be discipline driven, the district and each school have identified metrics and strategies for measuring success in reaching each goal.
LONDON CITY SCHOOL DISTRICT STRATEGIC PLAN: SHIFTING SKILLSET TO MINDSET
---
District Goals
London City School District Report Card