FOR IMMEDIATE RELASE
Contact:
Mrs. Sarah Knaebel
Director of Student Services
London City Schools sarah.knaebel@london.k12.oh.us
740-852-5700 ext. 3051
Mr. Sean Clymer
Student Services Coordinator
London City Schools/MCCESC
sean.clymer@london.k12.oh.us
London City Schools Preschool Classrooms Relocating to Fairhaven School
22 July 2020
In February, the London City School District, Madison County Board of Developmental Disabilities, and the Madison Champaign County ESC entered into a partnership to continue to provide high quality Preschool to area students with the hope to expand in the future. Given some unanticipated personnel changes and understanding of the health and safety measures required to reopen schools, LCS will be transitioning all Preschool classrooms to Fairhaven for the start of the 2020-2021 school year. The move is beneficial to London financially but also provides more room at London Elementary to accommodate K-5 students.
Related: Three Area School Organizations Partnering on Preschool Options at Fairhaven
The following Frequently Asked Questions (FAQs) are being provided to assist families in understanding the changes that are planned.
What will stay the same?
You can expect the same quality to be evident in all of the classrooms at the Fairhaven Early Learning Academy. You can also expect to see the same preschool model. We fill our preschool classrooms with a half and half blend of peer model students and those students identified as having a disability. Staff will implement the same play-based curriculum as we have before. Classrooms will be staffed with one teacher and one paraprofessional per classroom. All staff will receive continuing development that will allow them to stay up to date with the latest research.
What may be the most notable changes?
When the school year begins, students will be welcomed by Mrs. Beth Lute, Mrs. Kelby Maynard, Miss Nancy Morris, Mrs. Angela Browning, and Ms. Lauren Selmek. Additionally, Sean Clymer has taken the role of Special Education Coordinator at London and will be working to implement the preschool model at Fairhaven and administering special education programs and services in our younger grades. The location of our classrooms may be changing but our preschool team will still bring the same enthusiasm for educating our littlest learners as we always have had.
The cost of our preschool is going up slightly from $100 to $125 per month. This still makes our preschool among the lowest priced in our area, while providing a great value to our community.
What if we planned to use Champions to provide wrap-around care for our preschooler, will they still be able to use them? Would we need to provide transportation mid-day?
All Fairhaven Early Learning Academy preschoolers are able to utilize Champions before and aftercare. If a family chooses to use Champions for wrap-around services the district will transport the student from LES to Fairhaven and back if needed.
Will we start on time?
We tentatively plan to push back the start date until August 26th. This will allow our staff to be fully trained on proper procedures and routines we will need to implement with our response to COVID. Pick up and drop off will remain the same. AM session will be 9am-11:30am , PM session will be 12:30pm- 3pm.
How will students start back?
Our current restart plan is that all preschool students would start back August 26th, meaning they would attend Monday -Thursday during their AM or PM scheduled time. Currently, ODE and ODJFS provide districts the option to split a classroom in half using clear room dividers. This would allow eight students to remain on one side and another eight students to remain on the other side of the divider. The teacher and paraprofessional will switch back and forth between the two groups. This will help to minimize any potential spread of COVID -19.
When will Open House be?
You will receive more information from your child's teacher about our open house. We are currently working to devise a plan that will make sure to follow all current federal, state, and local health and safety guidelines.
Will my preschooler be required to wear a mask?
Yes. Madison County Health Department released guidance that says we must have all students wear a mask. The only exception would be a student who is unable to wear a mask due to a respiratory condition. Some parents may worry that their child will not keep a mask on, but classroom staff will work with preschool students to help them maintain all health and safety guidelines.
Where and when can I register my child? If they were already enrolled do I need to register them again?
If you still need to register your child, we ask that you register your child following the chart below prior to August 14th. If you do not plan to utilize the space we are saving for your child please let us know, as we have a waiting list and want to make sure we are able to serve all of the children we can. A survey will be sent to all preschool parents at London City Schools and Fairhaven Early Learning Academy to determine parent's desire to pursue preschool during the 2020-2021 school year and to indicate their preference for morning or afternoon preschool. The survey will close after one week and class lists will be evaluated, altered/changed, and sent to families, along with specifics regarding your child's registration based on the matrix below.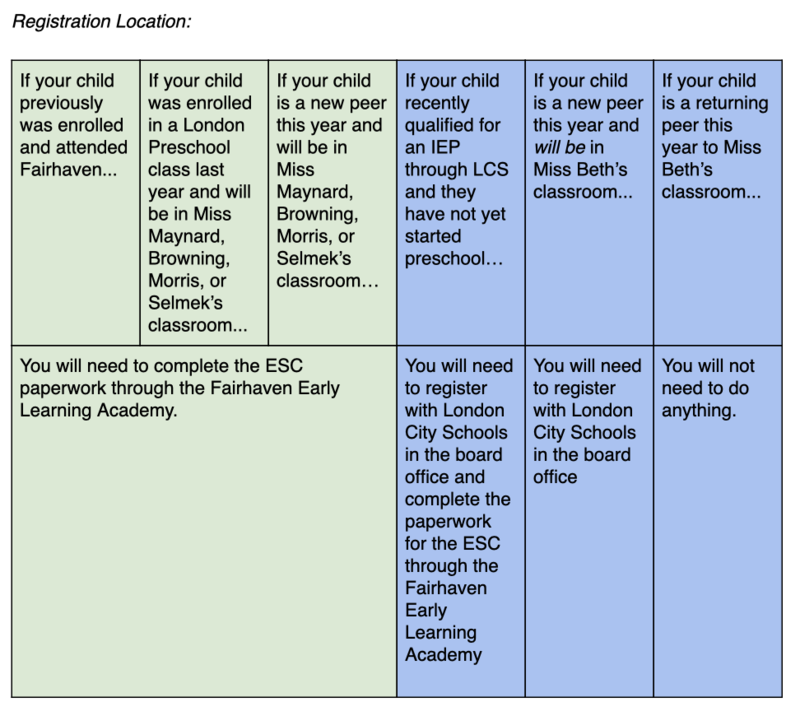 Will my student be able to attend all four days for preschool?
We will have several health and wellness strategies in place for the upcoming school year and want to try our hardest to have students attend all four days. We know that with the ever-changing landscape of this virus that we will need a couple of different plans to allow for flexibility to address any arising situations.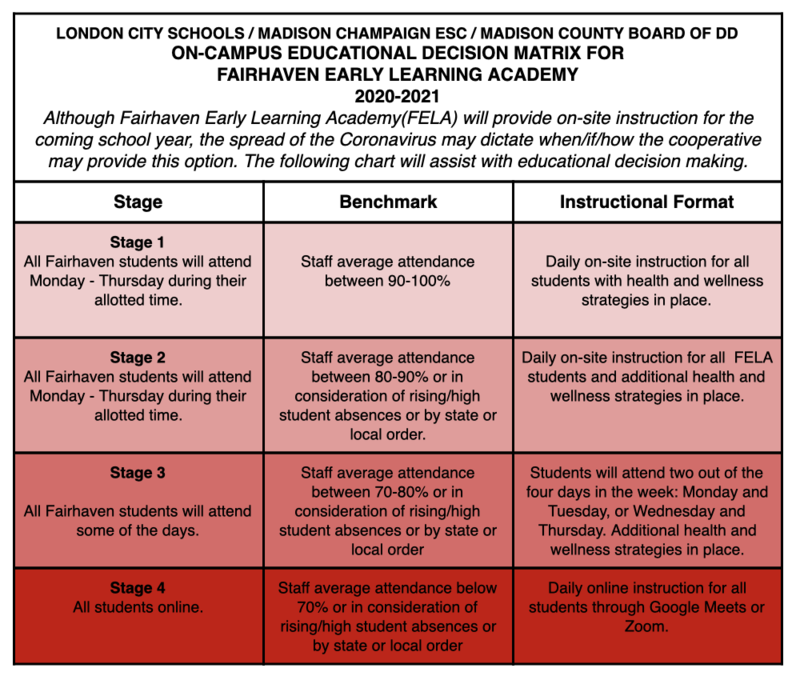 How will I know what stage FELA is in?
Communication will be sent to parents by their child's teacher communicating what stage Fairhaven will be in. Parents will be notified of any changes to stages as soon as possible.
If a stage change is made how quickly will I need to make other arrangements for my child?
If a stage change is made parents will be given every attempt of adequate notice of the announcement to make other arrangements for their child before that stage change is enacted.
Can my preschool peer participate in Raider Remote?
Preschool Peers will not be able to participate in Raider Remote at this time. Our only options for preschool peer models are in person.
What if my child receives services and I am uncomfortable with sending them to preschool?
If your child receives services we are able to give your students services through an itinerant option.
Preschool Survey
Please complete the following survey to indicate your continued interest in preschool.
Are there any peer spots left?
We currently have 7-8 FELA peer model spots left. We will be screening for placement in those peer spots in Early August.
Program Contact Information
If you have any further questions please feel free to contact Sarah Knaebel or Sean Clymer.
Mrs. Sarah Knaebel
Director of Student Services
London City Schools
sarah.knaebel@london.k12.oh.us
740-852-5700 ext. 3051
Mr. Sean Clymer
Student Services Coordinator
London City Schools/MCCESC
sean.clymer@london.k12.oh.us