EDIT MAIN
Research Paper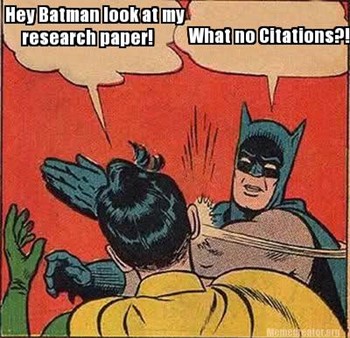 Why and How to Cite
Tutorials
Goblin Threat Flash-based game where users hunt for goblins in various scenes and defeat them by answering questions about plagiarism. From Lycoming College
Xtreme Plagiarism Can you make it down the hill without plagiarizing? From Northwest State Missouri College.
Rutgers University offers a 3-part plagiarism tutorial. Use links below or see the main page.
1. What is Plagiarism?
2. Plagiarism: Real life examples
3. The Cite is Right: The quiz show
Austin Community College — In-text citation tutorials
Villanova University — Interactive quiz
University of Maryland University College – Interactive tutorial
Works Cited Page
Free Citation Creators: Choose MLA style for your citations.
NoodleTools is the Web's most comprehensive platform for the academic research process. It has integrated tools for note taking, outlining, citation, document archiving/annotation, and collaborative research and writing. Differentiated, intelligent software and expert personal support for upper- elementary through university students. Note: You must register for the FREE version called Noodle Tools MLA Lite.
KnightCite Citation Creator KnightCite is an online citation generator service provided by the Hekman Library of Calvin College located in Grand Rapids, Michigan. The service is provided free of charge by the college, and is available to members both within and outside of the Calvin community. There is no advertising on the site, and those who choose to register on the site will have the option of saving all of their citations and even multiple bibliographies to their account.
Users may save all of their citations for a given project and instantly alphabetize or edit them. Citations in one bibliography can be copied into another. When a bibliography is complete, the program can export it into an rtf or word document with the appropriate format and hanging indents so it is ready to print. These features are easy-to use and accurate, so students can quickly create a bibliography page without worrying about points being marked off for syntactical details.
Bibme is a fully automatic bibliography maker that auto-fills. It's the easiest way to build a works cited page. And it's FREE. Search for a book, article, website, or film, or enter the information yourself. Download your bibliography in any of the following formats (MLA, APA, Chicago or Turabian). It's that easy!
Cite Fast: Generates citations and title pages in MLA, APA and Chicago formats. Includes "pop-up" tips for what to include in that element.
DocsCite: DocsCite is a step-by-step guide to putting government publications into MLA and APA format. Created by Arizona State University.
NCSU Citation Generator: Very user-friendly citation builder, maintained by North Carolina State University.
The APA Wizard: Helps create APA (6th edition) citations, goes step-by-step in citing research.
MLA